For Sale By Mental Patient

Return to Page 1 Make An Offer! Meet The Patients! Advice Contact Me
---

ETIQUETTE BY MR. MENTAL PATIENT
---
STRANGERS:

"When you hear the doorbell ring and glimpse an unwelcome visitor on your doorstep,
ALWAYS hide behind the curtains and pretend that nobody is home.
If that person does not leave in a timely manner, sell your home quickly
and MOVE TO ANOTHER CITY!!!"
---
WORLD RELATIONS:

"Before receiving an honored guest from abroad, always place a dangerous snake in their room.
This will remind them of home."
---

"Whenever addressing a person from a foreign country, always politely cross your eyes!!
No matter where they are from, this is probably one of their stupid customs!!"
---
FLUIDS:

"The person who snorts when they laugh always gets the most dessert.
Especially if they make sure to snort on it!"
---

"Whenever you blow your nose, you should ALWAYS open your handkerchief and inspect it,
as though Pearls and Rubies had dropped out of your skull!!
Who knows!? MAYBE THEY HAVE!!!"
---
PARTIES:

"When attending a Party, always let the Host or Hostess know that you do not like any of their friends!!!"
---
AT THE TABLE:

"Should a hostess serve you a severed head for dinner,
always wait 6 days before writing a thank you note."
---

Before Dinner is served, it is quite proper to turn your plate over, with the sapient air of a connoisseur, and study the design marks inscribed on the bottom.
It is also quite proper to scream "Mark of the Devil! Mark of the Devil!"
and toss the plate against the wall.
---
TRAVEL:

"When travelling on a boat with Pirates, NEVER laugh at the man with a Hook for a hand!
Unless he has no eyes."
---
LINGUISTICS:

"Don't use the word "drive" when you actually mean the word "ride".
You don't "drive" in a Pumpkin--you "ride" in a Pumkin!!"

---
RETAIL: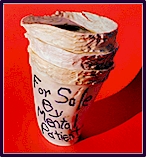 "When visiting a Mental Patient's Store, ALWAYS buy a Toothcrafted Coffee Mug!!!
---
THANK YOU FOR ATTENDING MY ETIQUETTE PAGE!!
REMEMBER: This is an ONGOING CLASS!
All students are requested to attend on a regular basis!
It shall be updated as frequently as possible.
---
---
Copyright Jan.27 2000
last revised November 3 2000