Present & Upcoming Litters
What our Cats & Kittens are Fed
Our cats & kittens are raised on a premium quality food; a combination of dry food - Solid Gold Katz-n-Flocken Cat
Food,
Wellness
Core,
and Royal Canin Maine Coon
formula
. As well, our adults eat Performatrin Lamb & Wild Rice stew, a holistic canned food. We also serve our kittens quality canned foods such as Merrick, Felidae & Wellness. Canned food should be fed once daily with dry kibble available at all times. Try not to overfeed with canned, as it can contribute to dental issues.

We have kittens available. Please inquire for details.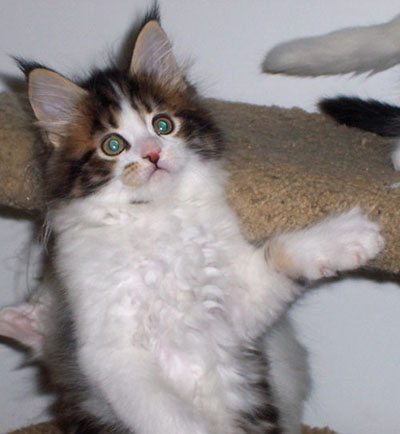 [Home] [Our Boys ] [Girls] [Kittens] [Show Cats] [Photo Gallery]
[Links] [Retirees] [Show Awards]